Client Contract/ Policies
By Booking with us you are agreeing to everything listed below.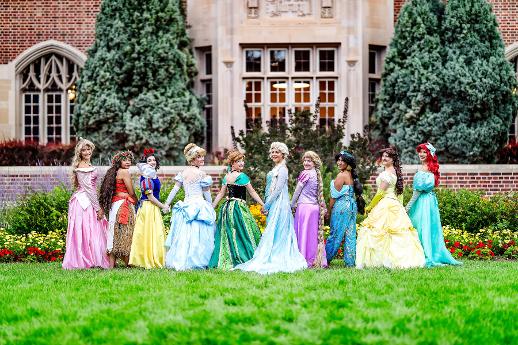 1. Contract: By paying your deposit, you, the client, agrees to the following terms and conditions.

2. Deposit: A non-refundable $50.00 deposit is due at the time of booking to secure your party or event date, time, and character(s). We are unable to schedule a performer for any party that has not submitted a deposit. ALL DEPOSITS ARE NON-REFUNDABLE. If you need to reschedule the date of your event, we will apply your deposit toward your new date. Your deposit is used to pay the employee who worked to book your party, to pay for the invoicing service, and to guarantee your performer and time. We often have to turn away clients who want characters at the same time so it is very important that your spot is reserved. Many of our employees take time off their full-time jobs for our gigs and they lose their compensation for your party when you cancel. If you wish to reschedule, we request that you let us know at least 7 days in advance.
3. Balance: Client agrees to pay the remaining balance 1 week prior to the event. Payment must be paid electronically through the Paypal invoice sent to the email on file at the time of booking. The final balance may be paid using all major debit/credit cards or via client Paypal account. If your total amount is not paid at least 72 hours before your party, you will incur a $10 late fee. It is imperative that your total amount is paid in advance so that Princess Parties of the Rockies may have the appropriate preparation time for your reservation. We DO NOT accept personal checks or cash payments to our performers for the balance. Cash may be used for tipping your performer and assistant. The entire balance must be paid before your performer is allowed to attend your party.
4. Cancellations & Rescheduling: If for any reason you need to cancel your event, we will work with you to schedule a different date. If you decide to cancel and do not reschedule your event, your deposit will be retained as a cancellation fee. If we cancel your event for any unforeseen circumstance, you will be refunded in full.
5. Smoking: Costumes and Wigs are property of Princess Parties of the Rockies and Princess Parties of Houston and are very valuable and will not be subject to smoke of any kind. If a guest is seen smoking at your party, It is seen as damaging our costumes and performers and the client is expected to assure that the guest stops smoking immediately.
6. Pets: All pets, with the exception of service animals, must be contained away from the party area.
7. Allergies: Client must inform Princess Parties of the Rockies/Houston know of any allergies to products such as food, face paints, face makeup, Glitter, nail polish, temporary tattoos, latex, acrylics prior to the party or event. Client understands that Princess Parties of the Rockies/Houston is NOT responsible for any injuries or allergic reactions that occur at your event.
8. Damage: We understand that accidents happen, however, the client may be held responsible for any excessive damage to costumes and property of Princess Parties of the Rockies/Houston during the clients event. Replacement/Repair costs in the event of damaged or broken costumes/ materials will be billed to the client . If serving food, please notify us in advance if something with a staining agent is being served prior to or in the event of your characters appearance time. If children are partaking in crafts before your performers appearance, Please notify us if glues and paints will be used. Water slides, mud, animal fur/droppings are also considered risks of damage.
9. Discipline and Non-Participation: Princess Parties of the Rockies/Houston performer and assistant are responsible for the flow of the event and activities during the full duration of their visit. the Client is responsible for monitoring disruptive behavior and attending to any child who does not want to participate. If a child or guest at the party is being disruptive past a reasonable extent, the performer/assistant has permission to ask an adult to escort the disruptive behavior away from the character entertainment/ activities or change the party activity rundown as needed.
10. Adults at Event: We ask that the parent(s) and/or guardian(s) of the birthday child supervise in the same room as the performer for the full duration of the party to attend to the possible needs of the children. Adult Guests are welcome to watch and enjoy the performance, but we ask that the noise level is kept to little to no volume so the children can enjoy the magical experience.
11. Activities: Princess Parties of the Rockies/Houston designed and customized its packages in order to provide entertainment for the full duration of the characters visit. Modifications to our party packages should be requested by the client at the time of booking. All activities will be finalized no later than 1 week before the party. Change requests may not be available. All performers are trained to read the room and lead activities in the order they feel best suits the needs of their guests. The performer will do their best to complete all activities, however, if unforeseen circumstances do not allow all activities to be completed they may stay up to 5-minutes past the party end time to complete the activities at no additional cost. Bounce houses/Trampolines are a fun added attraction to ones party. However, They can be a major distraction during your performers entertainment time! Client agree's that a bounce house and trampoline will need to be off-limits to children during the characters visit. Client agree's to assist in having the children present, this way the children can focus on the character and enjoy the magical experience. Water slides, sprinklers, and kid pools may not be the best attractions to have at a princess party. If your event is outdoors and there is water involved, mud may damage costumes and will incur a fee.
12. Location: Proper accommodations will be provided by the Client If rain occurs or it is too windy and the event has been scheduled outdoors. it is the responsibility of the Client to have a backup location and arrange for an indoor event. The party must take place indoors for temperatures below 60 degrees Fahrenheit or above 85 degrees Fahrenheit. For outdoor events, please have a shaded or sheltered area for the performer and the children and a clean chair. Water for each performer must be provided by Client.
13. Photo Release: Our managers or party assistants may take photos at your party as a training or marketing tool. Any photos the client decides to publicly post to any of our social media pages and any photos taken are hereby signed as release to be used by Princess Parties of the Rockies/Houston for website, social media, and promotional use. If you do not want any pictures of your party released, you must specify this in your contract.
14. Sound Level: For all large parties, it is important that there is no loud music playing during the performer's time. If music is playing, we suggest putting the performer and children in a quiet area with the client supervising. Client understands that if any loud music is playing during the performers time, activities will be affected or incapable of doing.
15. Changes to Time: Client must refrain from disrupting a performer's start time, nor delay them from leaving. If you decide during the party that you would like the performer to stay for an additional half-hour, and that they are available, the cost is $50 and will need to be paid on the spot in cash only to the assistant or performer. If payment for the additional time is not collected, the Performer will leave as planned. Changes in party start time by request of the Client will be accommodated at the discretion of the booking team and are based on availability. Any changes must be made within 48 hours of the party date. Client agrees not to hold Princess Parties of the Rockies/Houston responsible for inclement weather or other Acts of God that may cause delayed start time to the event.
16. Traffic: Client agree's to notify Princess Parties of the Rockies/Houston of any unusual traffic situations in your area that may have a negative impact on a performer reaching your destination on time. Ex. , Parades, Stadium, Raceway Events, Highway or road that may have a lot of traffic etc. This will help in making sure your performer is at your event on time. Failing to mention traffic conditions as stated above that you are aware about, with the exception of accidents or construction may result performer tardiness.
17. Managers/Assistants: If your party has a manager or assistant present, Client understands the Manager's role is to assist the character and NOT to control children/guests.
18. Liability: The Client agrees to hold and keep harmless Princess Parties of the Rockies/ Houston and its performers from any and all property damages and/or bodily injury damage caused by the Client or any/all guests. Princess Parties of the Rockies/Houston nor any of its contractors or employees are responsible for any damages that occur to any persons or properties for any client or company.
​
19. Safety: Our performers are trained to keep the safety of your guests in mind at all times. If there is ever a situation where the performer(s) or manager(s) feel unsafe, they will address the issue with the parent/guardian/Client. If the issue is not resolved, the performer has the right to leave at any time due to safety concerns and client.
20. Covid-19: Please see our current Covid guidelines (click here).
21. Your Event: Party details will be sent in an email confirmation at least three days prior to your event. Failure to confirm the details on the confirmation can result in errors including start time, address etc. ​​
22. Breach: Any breach in this contract automatically constitutes a cancellation in your party/event and any and all payments made to Princess Parties of the Rockies/Houston will be forfeited by the client. ​